12 Essential Entryway Ideas for Small Spaces
How do you create an entryway that is both inviting and functional when you live in a small home or small apartment? It's a place where you need to drop your mail, keys, and shoes, but it's also a space that you want to welcome you and your guests into your home.
It can be a challenge to create your ideal, small space entryway. With many people making the switch back to a more minimalist lifestyle, though, there's no shortage of ideas to help you make your entryway a space in your home that you love, no matter how small it is. 
In this post, we're sharing 12 essential entryway ideas for small spaces. From organizational must-haves to small entryway decor items that make a big impact, you'll get your entryway designed in no time.
1. An Entryway Rack Is A Must
The first rule of creating an organized entryway is to add a surface to put everything on when you walk in the door. Otherwise, all that stuff tends to accumulate everywhere else in your home.
For small spaces, choosing something with enough space to hold everything - shoes, keys, mail, bags - but not so big that it accumulates clutter is the key.
For example, our entryway bench is a good fit for modern and minimalist style homes. It allows you to organize your items with 3 shelves (perfect for putting shoes on the bottom and keys on the top) while maintaining a sleek design.
Extra Small Space? Try our Mini Entryway Rack Instead. For extra small apartments, our Mini Entryway Rack has the same beautiful look and functionality, but is designed to fit almost anywhere.
2. Add a Mirror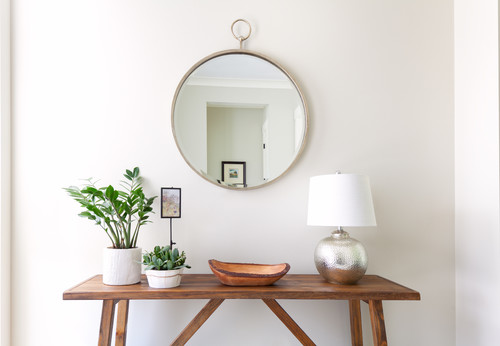 Mirrors are essential for making small spaces feel bigger. They also add a sense of luxury to any space.
It's easy enough to find a mirror in your style and your budget. It's one of those items that can make a big impact on your entryway without taking up a lot of space (no floor space at all) or spending a lot of money.
Check out this post from Apartment Therapy for small entryway mirror inspiration.
3. Splurge on an Entryway Rug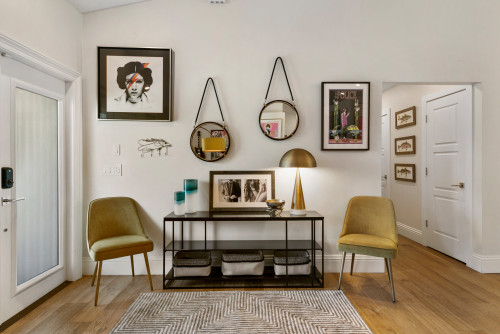 One of the best ways to add warmth to your home is to add more soft surfaces, including rugs. Splurging on an entryway rug you really love can make you feel welcomed and comfortable the moment you walk in your door each evening. 
Check out some of these beautiful options on Etsy.
4. Organize Your Essentials
'Phone, wallet, keys.' We all have that little list we say to ourselves as we walk out the door. Add a little something to your entryway to keep your everyday essentials so you never forget them again.
A decorative bowl will do the trick or our iPhone Dock Organizer will charge your phone while also keeping everything in one place.
5. Create a Home for Mail
If you don't create a place for all of your mail to go when you walk in the door, it will likely end up in some annoying places like your kitchen counters or coffee table.
photo
A simple mail holder like one of these can keep everything organized and in one place until you're ready to deal with it.
6. Add a Small Entryway Bench if You Have the Space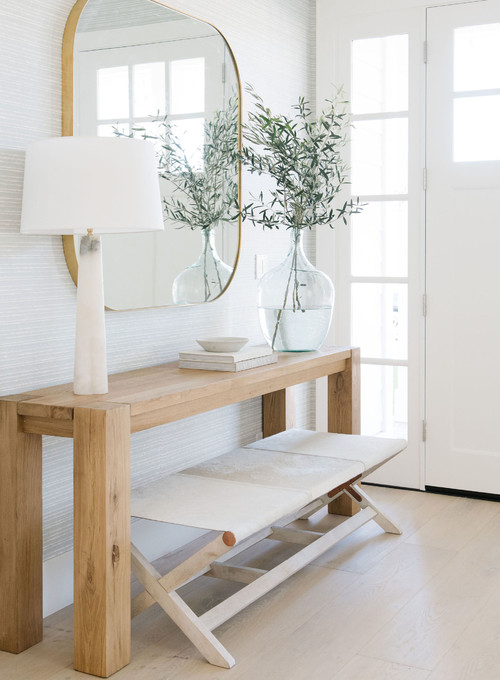 Another functional item to put by your door is an entryway bench. Not everyone will have the space for one of these, but if you can carve out a foot or two, it's totally worth it.
Even a small stool or pouf that can be slid under a table is handy to have when you're putting on shoes or waiting for someone else to get ready. Plus, it adds another 'cozy' element to your home.
7. Brighten Your Entryway with Lighting
It's never fun to come home from a long day to a poorly lit house. Warm up your entryway with some intentional lighting elements to make it more welcoming.
If you own your home, you can upgrade your ceiling fixture to something a little more exciting. But if you rent or don't want to make big adjustments, you can swap out lightbulbs in existing fixtures or simply add table lamps to your entryway rack or table.
8. Take Advantage of Vertical Storage Space
Finding enough storage space in a small apartment can be a big challenge. When in doubt, go vertical. Add shelves, coat hooks, and cabinets to make the most of the space you do have.
9. Consider Built-In Storage
If you live in a rental, this may not be a great option for you
But if you own your home and have a large family, you may find that you just don't have enough entryway storage with your current setup.
Creating a built-in storage bench may be worth the investment to make your small space as functional as possible. Even in a small space, built-in storage can add tons of organizational space to your entryway.
Here are a few ideas of small-space entryway built-ins: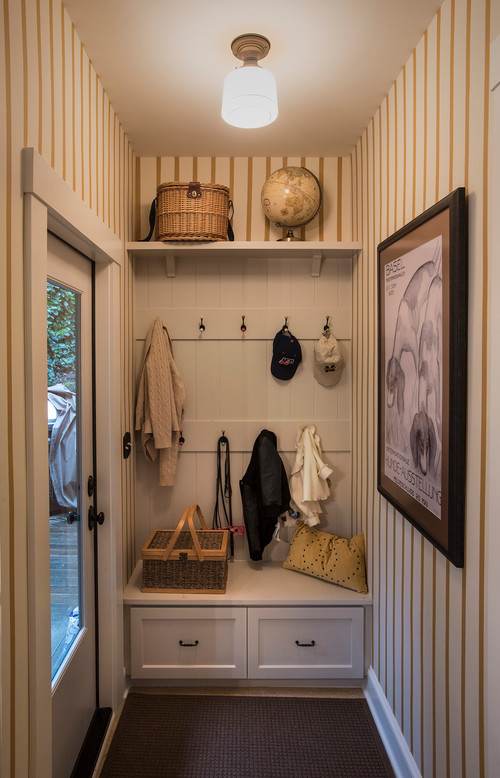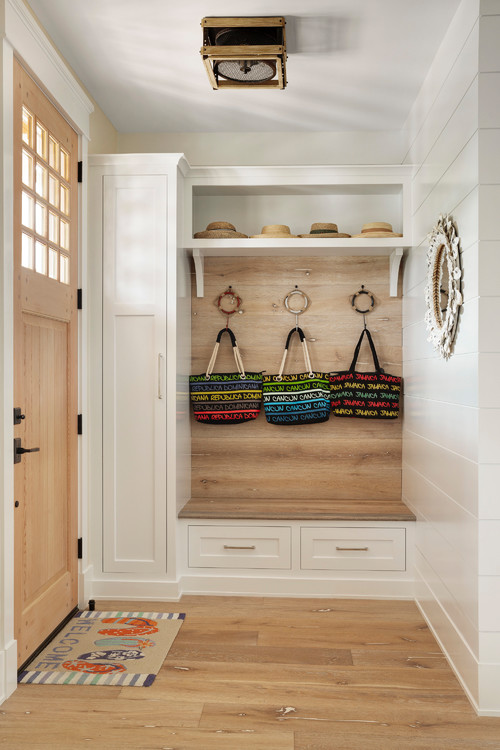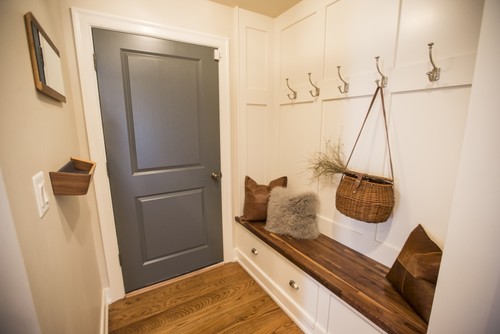 10. Don't Forget a Coat Hanger
A lot of small apartments and homes don't come equipped with a coat closet. Make your entryway functional by adding a few coat hooks or a small coat hanger.
A coat hanger will keep your jackets and bags from landing on your dining room chairs or on the side of the couch. 
For extra small spaces, you can buy coat hooks individually online or at most stores and just use the exact number of hooks you need for your belongings.
11. Stay Organized with a Memo Board
In a small home or apartment, you might not have a home office or large kitchen where a memo board or 'command center' of the home might naturally go.
An entryway space is a great alternative place to put a small memo board or calendar to keep track of notes, shopping lists, and family events.
The great thing about an entryway memo board is that everyone sees it as that walk in and out of the house.
12. Incorporate a Focal Point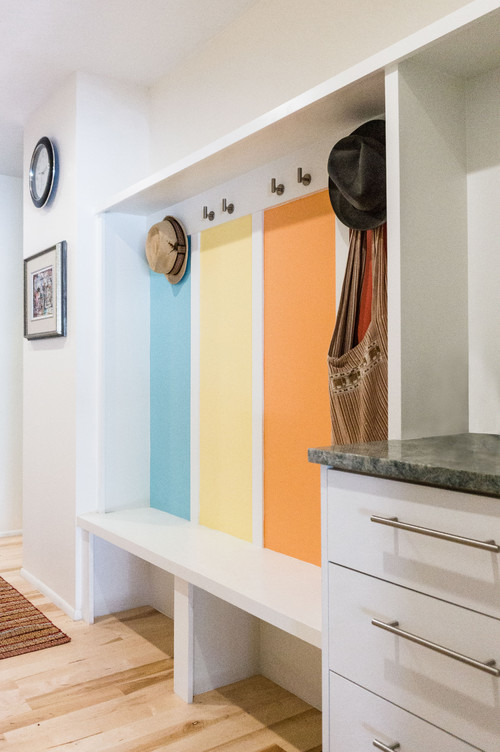 Finally, incorporate a focal point in your entryway. 
In small spaces, a minimalist style works well and there's no need to overdo it with design elements. Instead of worrying about designing the perfect entry space, just focus on choosing one focal point element.
An entryway focal point might be a fun mirror, a colorful floor tile, or an accent wall.
Whatever you choose as your focal point, make sure it's something that you love and that brings you joy every time you walk in the door. That's the whole point, right? Creating a home that makes you happy to be there.
We hope this post inspires you to create both a functional and inviting entryway you love, no matter how small it is! To find more inspiration, check out our other blog posts and our line of storage furniture.